Hello guys, we received emails from many beginners who had many questions regarding CDS exam pattern 2020, how the CDS exam is conducted and many basic questions which we all must know before starting preparation for the CDS exam. What is CDS exam? What is CDS exam pattern? What are the stages in CDS exam? How and where is it conducted? All these basic questions regarding CDS exam will be explained in very simple language by our experts. So, make sure all your doubts regarding CDS exam are cleared today itself.
What is CDS exam?
Term CDS stands for "Combined Defence Services", which is an exam conducted by UPSC (Union Public Service Commission) for selection of deserving candidates to be officer in Armed Forces. Officers of the Army, Navy and Air Force are selected from this common entrance exam.
This is exam conducted for candidates who have completed graduation from any field (Arts, Science, Commerce, Techincal (BE, BTech) who want to be part of Armed Forces. This is a Class A Officer level post which is similar to post which is obtained from NDA (National Defence Academy, 12th level entry)
Exact CDS exam pattern with the number of questions asked
It is necessary to be very specific and target-oriented to score good in CDS exam which is conducted by UPSC and every year around 3 Lakh aspirants fill the form for around 300 vacancies. Let's have an overview of CDS exam:
| | | | |
| --- | --- | --- | --- |
| Subject | Duration | Marks | Questions |
| English | 2 hours | 100 | 120 |
| Mathematics | 2 hours | 100 | 100 |
| General Knowledge | 2 hours | 100 | 120 |
These are the three papers of the CDS exam with the number of questions and Marks. One-third negative marking makes it difficult to attempt many questions. If you are planning for OTA (Officers training academy) then you have to give 2 papers, GK and English, and cutoff will be calculated out of 200 marks.
I have cleared each and every doubt in this article so that after reading this article, all your doubts regarding CDS exam pattern will be cleared and you can focus 100% on written exam and SSB preparation.
Also Check: CDS Exam Eligibility (No one will tell you this…)
Which academy will you join after clearing CDS exam?
At the time of filling the form, you have the choice of filling the preferences of the academy. You have the option to be part of four prestigious academies of India. They are-
Indian Military Academy (to be part of Indian Army)
Indian Naval Academy (to be part of Indian Navy)
Air Force Academy (to be part of Indian Air Force)
Officers Training Academy (Indian Army short service commission)
The pattern of CDS exam is the same for all academies. Expect for Officers Training Academy, for which you have to face only 2 papers (English and GK)
Age limit for CDS exam (For different academies) :

How many times is CDS exam conducted in a year?
CDS Exam is conducted twice a year. CDS 1 written exam is conducted in February and CDS 2 written exam is conducted in September. You have a gap of roughly 6-7 months between two attempts which is ample time to prepare for CDS exam.
It depends on your age limit how many attempts you can give. But on an average, every aspirant gets 5-6 attempts of CDS exam after completing his graduation exam.
Also Check: CDS Cut Off (Last 3-year cutoff marks for Written + SSB)
Is CDS exam conducted online or offline?
CDS exam is conducted in offline mode. You have to select the nearest city in your locality for the exam center while filling the CDS Exam form. (All major cities in India can be selected as exam center). Written exam is conducted in an offline format where you have to give 3 objective type papers (English, GK and Maths) in a single day at the center you have chosen at the time of form filling.
CDS exam pattern 2020 is easy to understand. Most important thing is to understand CDS syllabus and prepare as per latest exam trends.
How is the form filling process for CDS exam?
CDS exam form filling process is completely done online. There is no option of offline form filling. Form filling process for CDS exam begins roughly 4 months before exam and CDS Admit card (Hall ticket specifying exam center) is allotted 3-4 weeks before the actual written exam.
We need to fill CDS exam form with due care, as once form is submitted, no changes can be done to it later. List things are filled in CDS exam form:
Personal Information
Qualification details
Contact details
Preference of academies (IMA, INA, AFA, OTA)
Preference of exam center
Uploading photo and signature
Payment of exam fees (Online)-200 rupees
Agreeing to declaration of exam
What are the exact stages of CDS exam?
CDS exam is conducted in 2 stages. Written exam and SSB interview. But I have given below a list of simplified stages of CDS exam pattern you have to go through to be part of Armed forces.
Written Exam (clearing CDS cutoff)
SSB interview (of 5 days)
Medical test
Merit list
Stage 1 of this exam is the Written exam which will consist of 3 papers (English, Maths and GK) and after clearing the individual cutoff and overall cutoff, you will have to face the SSB interview which stands for "Service Selection Board" interview which is a five-day extensive test. SSB interview also has a Screening test on 1st day, where maximum candidates are rejected.
I have written a detailed article on SSB interview, but I will tell in short that SSB interview is a personality test of an individual, it will test your officer like qualities, psychological development and check whether you are suitable for armed forces or not through number of tasks and tests which you need to perform during 5 days process of SSB interview. (Don't treat SSB as an exam, treat it as a way of life)
After clearing SSB interview, a medical test will be done and then the Merit list will be prepared by UPSC in few months specifying the All India Ranks. So, depending on your rank and preference, you will get the academy you deserve. (Your joining becomes confirm only after clearing the Merit list, as there are many aspirants who become merit out)
(Merit list is total of Marks obtained in Written exam + SSB interview)
Also Check: CDS exam Books (Strategy-wise booklist)
CDS Exam pattern for OTA
If you are aiming for CDS OTA exam, you have to give only 2 papers, that is, CDS English paper and CDS GK paper. There is no maths paper for OTA. As a result of which cutoff for OTA will be calculated out of 200 marks (CDS paper pattern 2020 remains the same)
(In case of other academies, Cutoff is calculated out of 300 marks)
Pattern of CDS Exam for OTA:
| | | | |
| --- | --- | --- | --- |
| Subject | Duration | Marks | Questions |
| English | 2 hours | 100 | 120 |
| General Knowledge | 2 hours | 100 | 120 |
You can score 90+ marks in CDS OTA with the help of CDS OTA preparation article. Just be mentally prepared to study from genuine books (NCERT)
Is their negative Marking for the written exam?
Yes, CDS exam has negative marking. One third negative marking makes CDS exam pattern more difficult, especially clearing the individual cutoff of GK paper. So, it is recommended to follow detail strategy for CDS GK paper, CDS Maths paper and CDS English paper which I have already published on this website.
What is CDS cutoff for written exam?
To clear CDS written exam, you have to clear 2 cutoffs:
Individual cutoff marks for all 3 papers
Overall cutoff marks
You have to score a minimum of 20 marks in each paper (English, GK and Maths) to clear the individual cutoff of all 3 papers.
(20/100 Marks)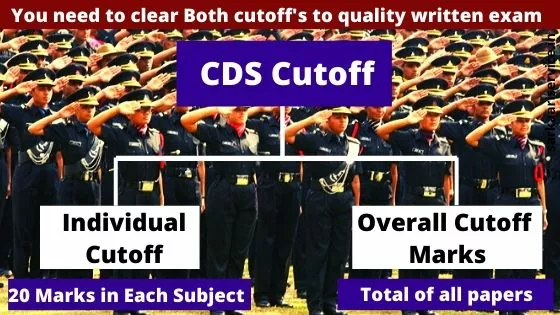 Overall CDS cutoff varies as per academies. For IMA cutoff is around 120-125 marks, for INA its 110-115 marks, for AFA it is around 140-145 marks and for OTA it is 90-95 marks (out of 200 for OTA)
And please do not take individual cutoff lightly. Even after knowing the CDS exam pattern, many aspirants who clear the overall cutoff, but fail to clear individual cut off for GK paper.
Can I clear CDS exam if I fail in GK exam but clear Total cutoff?
No. It is compulsory to clear Individual cutoff as well as Overall cutoff to clear written exam (Stage 1) of this exam which makes the pattern of cds exam little difficult.
Are all the 3 papers conducted on the same day?
It makes this paper more challenging. Keeping focus and enthusiasm till the last paper is important. Last paper is Maths, which is a scoring paper, for which we need to be highly competitive, as we need to solve huge number of questions in limited time.
CDS English paper: 9 am to 11 am (120 questions)
CDS GK paper: 12:00 noon to 2pm (120 questions)
CDS Maths Paper: 3 pm to 5 pm (100 questions)
Questions asked in CDS English paper are easy as compared to others, but when your target is to solve around 95-100 questions in 120 minutes, you need to have very high concentration at the time of exam.
When is CDS written exam result declared?
CDS written exam is declared around 60-70 days after written exam. After result of written exam, SSB for IMA starts within next 2 months. Journey from Date of written exam to Final merit list takes around 10-12 months.
These dates and time periods are as per previous trends. UPSC is very unpredictable and these time periods can vary as per the situation.
If you have seen the Official Notification of CDS exam, no detailed syllabus is available for GK paper and English paper. Maths syllabus is given but more important is to know the types of questions asked in actual exam and topic wise weightage. I have written a dedicated article on CDS Exam syllabus which will contain all necessary things you must know about CDS Syllabus.
Check that Syllabus article here: CDS Exam syllabus 2020
Can a 2nd-year student give CDS exam?
No. You need to be in the last year of Graduation to give the CDS exam.
Do we need coaching for the CDS exam?
I have already given CDS Exam strategy for GK paper, CDS exam strategy for Maths and even English. These strategies are designed with the help of successful aspirants and the experience of many aspirants. So, you need self-coaching, not any external paid coaching for CDS exam.
The role of any coaching institute is to guide you and provide the best sources from which you can study. I am doing this thing free of cost for you. So, if you are a serious aspirant, no need for coaching.
Can girls also give CDS Exam?
Yes, female aspirants can also give CDS exam. But they can be part of the Officers Training Academy (OTA) only which is meant for Short Service Commission.
(After completion of Short service years, it can be converted into permanent commission depending on individual performance and vacancies available at that time)
Can the pattern of CDS exam change?
Atleast for the next 3 years (Means 6 CDS attempts), basic CDS exam pattern will not change.
The only thing which you need to worry about is increasing cutoff marks and difficulty level of CDS exam papers (especially GK paper) Which can be tackled only with the help of CDS exam detailed strategies.
CDS Exam Pattern and Syllabus
Pattern of CDS exam and CDS Syllabus are the two most important things every CDS aspirants must know. Because we are not here to do Ph.D. in subjects but to clear CDS exam and be officer of armed forces. So, in the end, we have to face written exam and SSB interview, so our preparation must be highly customized and exam-oriented…
Otherwise, you will be left out in this competition (Mind it!!)