Officers training academy, which offers Short Service Commission in Indian Army is a dream for many aspirants. The highest competition in CDS exam is for OTA (that is, Officers Training Academy) due to a higher number of aspirants giving OTA 1st preference, higher age limit and only place where female aspirants can focus on. This demands CDS OTA preparation 2022 to be very strategic.
As a result of which Cutoff of CDS OTA is rising day by day in spite of tough GK paper. This is the only thing motivating me to make this CDS OTA exam strategy that will be helpful for Arts, Commerce, Science background aspirants.
This article on Sarkaari Service also contains some CDS OTA preparation tips which you have to keep it in mind before starting the actual preparation.
CDS OTA exam preparation 2022| Introduction
If you are preparing for CDS OTA exam, you have to give only 2 papers, that is, CDS English paper and CDS GK paper. You do have to give CDS Maths paper. As a result of which cutoff is calculated out of 200 marks. (In case of IMA, INA, AFA, Cutoff is calculated out of 300 marks)
SSB interview of all Academies are same, just difference is of CDS Maths paper so that many Arts and non-science background aspirants get an equal playing field to be a part of armed forces. CDS OTA preparation strategy is designed considering Arts and non-science background aspirants. So, you can rely on it.
Let's have a look at CDS OTA Exam pattern
| | | | |
| --- | --- | --- | --- |
| Subject | Duration | Marks | Questions |
| English | 2 hours | 100 | 120 |
| General Knowledge | 2 hours | 100 | 120 |
English paper: 9:00 am to 11 am
GK paper: 12:00 noon to 2 pm (Need to focus only on 2 papers)
CDS OTA Cutoff Analysis
CDS OTA preparation needs to be well planned to score high in this competitive environment. Let us see what is the cutoff of CDS OTA for past few attempts so that we can plan things accordingly. You have to clear 20 marks cutoff barrier (Individual cutoff for GK and English) as well as overall cut off out of 200 marks to qualify OTA Cutoff marks and get opportunity to face SSB interview for OTA:
CDS OTA exam
attempt
CDS 1 2019
CDS 2 2018
CDS 1 2018
CDS 2 2017
CDS OTA Cutoff
(Men)
85-90
marks
83-85
marks
82
marks
82-86
marks
CDS OTA Cutoff
(Female)
80-85
marks
80-83
marks
82 marks
82-86
marks
Due to the increase in difficulty level of CDS GK paper, Cutoff of IMA, INA and AFA had seen a decline in the last few attempts. But that's not the case with CDS OTA cutoff. The reason for that is High competition and many aspirants being from humanity background (for OTA) clearing CDS GK paper individual cutoff marks is not a big task. So, if you are focusing on the OTA exam, you must know this fact.
Realistic Target setting for CDS OTA exam preparation
Everyone knows that we need to score good in GK and English paper, and your attempt must be good. But what exactly must be your target? How many questions to attempt in CDS OTA exam? And how much is Ideal score in CDS OTA exam?
Target of CDS GK paper
| | |
| --- | --- |
| Correct Answers (Minimum) | 62-65 |
| Wrong Answers (Maximum) | 5-6 |
| Time for One GK Question | No issue of time in GK paper (ample time) |
| Aim to score in GK: | 50 Marks |
Target of CDS English paper
| | |
| --- | --- |
| Correct Answers (Minimum) | 80 questions out of 120  |
| Wrong Answers (Maximum) | 4-5 |
| Time for One English Question | 1 minute |
| Aim to score in English: | 65 Marks |
When you will aim for 100 marks, then your score will be around 90 marks. And I am not just setting goals for you, I have made CDS exam GK strategy and CDS Exam English strategy where you will get important books (even important chapters to study) in a step by step approach. Efore moving towards must have books for CDS OTA, we will see some realistic tips to clear OTA exam in first attempt.
Tips to clear CDS OTA exam in first attempt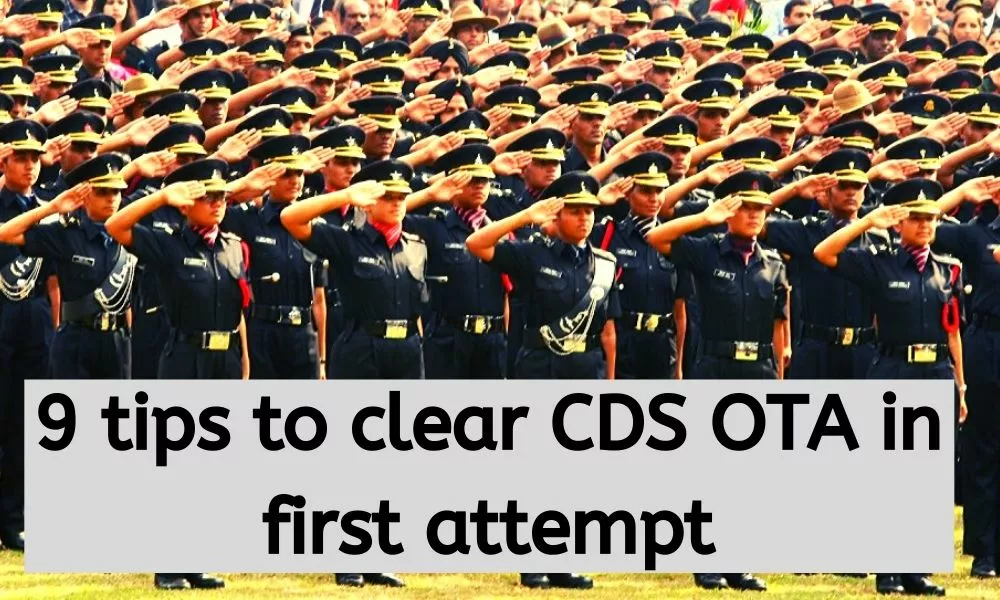 1. You have to focus only on 2 Papers. So, you have much time.
Preparing for 3 papers (GK, English and Maths) at a time and giving 100% output on the day of exam (when all the 3 papers are on the same day) it becomes difficult to be at 100% efficiency in each paper.
Being an OTA aspirant, you have to focus only on 2 papers: CDS English and CDS GK. So utlilize this opportunity and try to have upper edge in these 2 papers (over IMA, AFA and INA aspirants)
2. Scoring 40 marks in GK becomes challenging, so aim 65+ marks in English at any cost.
Even after following CDS GK detailed strategy, CDS GK paper is unpredictable and scoring 40+ score in GK paper can be difficult. So, it is better to score 60+ marks in CDS English paper because:
CDS English pattern is same very year (very minute changes)
CDS English types of questions asked is same (even weightage is same)
Solving 85-90 correct questions in English is 100% possible if you follow CDS English strategy
Once grammar rules and types of questions in exam are practiced, 65+ is doable.
3. Revision becomes easy for 2 papers as Maths is by passed in this exam
Revision of CDS GK sources and practicing previous year English questions is very crucial for CDS OTA exam. And as you have to focus only on 2 papers, you can manage time accordingly. (If you have given 3 papers in a day, you can relate to what exactly I want to say)
4. Focus on reference Book and NCERT Study for GK. (Just clearing cutoff is of no use)
Let's take a real life example:
If you score 25 marks in GK and 55 marks in English (Which is a good score) your total score will be 80 marks and still you have less probability of clearing written exam. But if you will score 35 marks in GK and 60 marks in English, your score will be 95 marks and 100% probability of clearing CDS OTA written exam.
So, this transition from 25-35 marks in GK will be possible due to Reference books and important NCERT books as told in CDS GK paper strategy. And transition form 55-60 marks due to Newspaper reading and English grammar rules practice.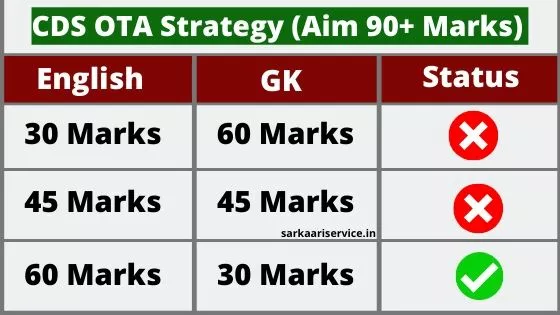 CASE 1
Practically, it is very difficult to score 60 Marks in GK paper. Thats why, this case is rejected.
CASE 2
This case can be possible. But still its not too easy to score 45 marks in GK paper. (And much efforts will be required) So, this case also rejected.
CASE 3
Easiest and highly effective case as scoring 30 Marks in GK is comparatively easy and 65+ Marks is also easily possible if you follow CDS English strategy. So, this case is selected.
5. You get much time to prepare for SSB interview as compared to other Academies.
You need to prepare for SSB interview on continuous basis, but you must know that SSB interviews of OTA aspirants are scheduled last (after completing interviews for all other academies).
So, it must motivate you to prepare hard in written exam and be confirmed about SSB interview, so that you can utilize this time period utmost.
6. English grammar study and "The Hindu reading" becomes very crucial
I have given detail procedure about how to proceed in CDS English preparation in detail strategy, but still reminding you that Basic grammar rules, previous year question practice and The Hindu reading can pave a way for your success. (The Hindu editorials useful for GK + Maths papers)
7. Solving 10 CDS English papers is must for 65+ score (Not so easy)
Once your English preparation is done, you need to test yourself with 10 CDS English test (get previous 4-5 year question papers from upsc.gov.in) and practice them in exam like conditions.
I guarantee that you will learn new thing after each test and your score will go on increasing by around 8-10 marks in every test.
This exercise of 10 exam paper practice is very crucial for OTA aspirants.
8. OTA is toughest training academy in India. That must be followed for preparation too
You might be knowing about this fact that OTA is toughest training academy in India. So, better implement that mentality in written exam too. Because your 1 year of preparation can make your dreams come true.
9. Last but not the least, GK paper analysis is must !! (And study topics as per their weightage)
Indian Polity
Geography
Economics
History
Physics
Chemistry
Biology
Current Affairs
Defence Related
Sports, Awards and Days
Environment Related
CDS OTA exam best books for GK:
Here I will provide you with best booklist for CDS OTA exam. But it is important to read this books in systematic way to get best results out of it. I have made CDS GK strategy and CDS Maths strategy with 1 month of special research, so it's better you check those articles for step by step approach.
List of Important CDS GK books:
Democratic Politics 1
Deomcratic Politics 2
Indian Constitution at work
M laxmikanth book for Polity
India Physical Environment
Fundamentals of Physical Geography
6th to 10th Geography NCERT
Geography through maps (for Mapping)
Modern History Spectrum book
Mrunal Sir videos for economy
6th to 10th Science NCERT
Just make sure you have a look at CDS GK strategy to get important chapters of these books and exact step by step approach to read them.
CDS OTA exam booklist for English paper
3 Best sources for CDS English paper are:
The Hindu newspaper reading (helps in many ways)
Wren and Martin English Grammar Book
Previous year question paper practice (from upsc.gov.in)
Frequently Asked Questions (Related to OTA)
What is OTA in CDS Exam?
OTA stands for "Officers Training Academy" which is academy to train female and male aspirants for Short Service Commission of Indian Army (for all branches)
What is the salary of OTA in CDS ?
Salary is not dependent on academy. It depends on your Rank and level. In hand salary of OTA passout officer (Lieutenant) is Rs.78,000 to 88,000 along with allowances which vary with location of posting
What is OTA army?
OTA is a Premier Training Academy which trains male and female aspirants who want to join Short Service Commission of Indian Army. (OTA chennai)
Can a girl join Army?
Yes. At present, only way for female aspirants to join Army is via Officers Training Academy which officers Short Service Commission via CDS exam or Technical entry.
What is the eligibility for OTA?
Eligibility age for OTA is from 19-25 years. You just need graduation from any field. Even aspirants belonging to last year can apply for exam.
What is OTA exam?
In fact, there exists no such exam. It is CDS exam which provides aspirants an opportunity to join OTA (Which is called as OTA exam by aspirants)
What is best book for CDS OTA?
There is no single best book for CDS OTA. You need to follow CDS GK strategy and CDS English strategy as provided.
Can girls apply for OTA?
Yes. Graduate girls between the age group of 19-25 can apply for OTA via CDS exam.
Can I get permanent commission through OTA ?
No. OTA provides Short Service Commission for male and female aspirants. After the short service is complete, it can be converted into Permanent Commission based on performance and vacancies at that time.
What is difference between IMA and OTA?
IMA= Indian Military Academy (Which offers Indian Army 'PC' for Men only)
OTA= Officers Training Academy (Which offers Indian Army 'SSC' for Men and Women only)
What do I expect from you aspirants?
I have few expectations from you:
If you think this article helpful, share it with needy and serious aspirants so that no CDS aspirant is direction less in CDS exam preparation.
I need your genuine reviews in comment section. I will improve the content as per your requirements.
Hopefully my small contribution will help India get its future Defence Officers.
And if you still have any doubts, feel free to ask in comment section. I will answer them in 24 hours. Guaranteed.