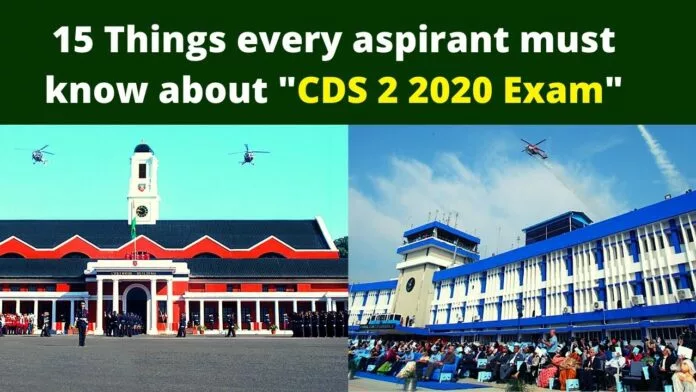 Hello friends, today we are here with CDS 2 2020 Exam details where we will cover 15 important things you must know to clear the upcoming CDS exam. CDS 2 2020 Notification, as well as CDS 2020 application form, is released. So, I will cover all important points from CDS 2020 Notification so that you need not waste time in reading the whole CDS 2 2020 Notification pdf.
We will cover A to Z details of exam ranging from CDS 2 2020 age limit, pattern, CDS syllabus to CDS preparation strategy. So, stay tuned so that you have up-to-date information before giving the CDS exam.
CDS 2 2020 Notification details:
CDS 2 2020 Revised Notification (Latest):
Click Here
CDS 2 2020 Notification was released on 5th August 2020 and CDS 2020 Online registration has started. Various details regarding CDS exam like CDS eligibility criteria, age limit, number of vacancies, etc are elaborated in notification.
Today we will see only important points of CDS exam notification which you actually need. Let us begin with the most important point, that is, CDS 2 2020 application form and how you can fill the CDS exam form in a step by step manner.
Also check: CDS Exam syllabus (No-one will tell you exact CDS Syllabus)
How to fill the CDS 2020 Exam form correctly? (Step by Step Process)
Some details regarding the CDS exam online registration process:
You can fill online form on www.upsc.gov.in (No offline process available)
CDS exam form filling process takes place in 2 stages, Part 1 registration and Part 2 Registration. (Demonstrated in video)
Once CDS 2 2020 Application form is submitted, no further changes can be made to it. So, follow the step by step process as demonstrated in the video below.
Hopefully, you have filled the CDS 2 2020 registration form as demonstrated step by step in above video. Now let us move forward towards CDS 2 2020 preparation strategy.
Can I clear the CDS exam in 3 month time?
Generally, the CDS written exam is conducted about 95-100 days after the release of Notification. The upcoming CDS written exam will be held on 2nd of February 2020. You get roughly 3 full months for CDS exam preparation which is a decent time period.
If you want to clear CDS written exam in 3 months' time you need to make sure that you complete CDS GK paper syllabus as per detailed strategy. I have already made CDS Exam GK paper strategy which you need to follow A to Z as specified. I have analyzed the previous year papers, current trends and taken input from thousands of successful aspirants to make CDS exam strategy for 3 papers. Check these 3 articles below:
You will not get shortcut strategies here. So, be ready to work hard on core subjects if you want to clear the CDS exam. If you will do shortcut study, then you will not be able to clear even sectional cutoff of CDS GK and Maths Paper.
CDS 2020 Written exam tips
Now you have seen CDS GK paper, Maths paper and English paper strategies whose links are given above. You just need to follow those CDS exam strategies rigorously till your portion is complete and atleast 1 revision is done before the actual examination.
Still, I will like to give you 3 Tips:
4 pillars of CDS GK paper must be your main focus of study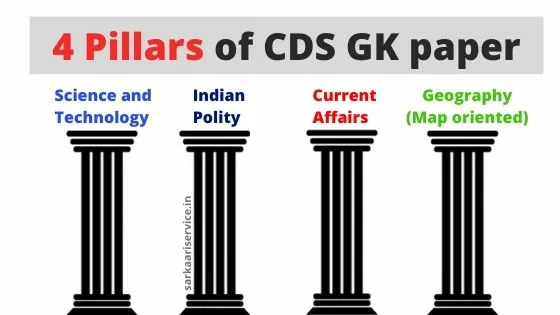 Study all subjects of GK paper in a linkage format.
Generally, we take a particular subject for study, complete major portion of it and then shift to the second subject. But it's not that helpful. You must study all subjects in a linkage.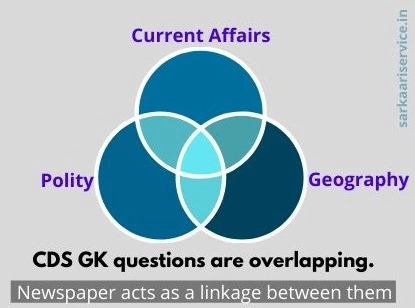 If you have not revised what you have read in GK and Maths strategy, you are at same as a fresher.
When you have multiple things to study in a short period of time, revision is the key to success…
Also Check: CDS Exam Eligibility (many websites will hide the actual eligibility)
CDS 2 2020 Important dates
Now we will see some important dates of CDS 2 2020 exam which you must know. Many a time we miss important dates regarding the CDS exam due to busy routines and keep asking simple questions on various social media platforms.
CDS 2 2020 notification release date: 5th August 2020
CDS 2 2020 application start date: 5th August 2020
CDS 2 2020 Form filling start date: Already started
CDS 2 2020 Admit card release date: 3 weeks before exam
CDS 2 2020 written exam date: 8th November 2020
CDS 2 2020 result date: 55-60 days after written exam
If you are planning for CDS 2 2020 exam, bookmark this page because all details on this page will be required at different stages of your CDS preparation.
CDS 2 2020 Apply online UPSC
I am telling you lengthy process to apply online for CDS 2 2020 because you need to understand where new notifications and pdf files can be seen (Which will be helpful to you in next stages)
Step 1: Go to www.upsc.gov.in
Step 2: In Examination > Active Examination > CDS 2 2020 > CDS Notification pdf can be seen
Step 3: Click on " https://upsconline.nic.in" and fill the CDS 2 2020 from in 2 stages.

CDS 2 2020 Eligibility
CDS 2 2020 Eligibility or CDS 2 2020 Eligibility criteria is the most searched term regarding the CDS exam. We will have look over the major eligibility criteria of the CDS written exam.
You must be a citizen of India.
You must have completed graduation from any field and must be within the age limit.
Female candidates are only eligible for OTA.
B-tech degree is a must for INA.
Candidate must be physically and medically fit as per criteria's given in notification
CDS 2 2020 Age Limit
The age limit for CDS 2 2020 exam is different for different academies. This creates confusion among many aspirants whether they are in for the upcoming CDS attempt or not. So, you need to clear basics regarding CDS exam age limit for male and female so that this query will never arise again in your mind.
CDS exam age limit for IMA: 19-24 years
CDS exam age limit for INA: 19-22 years
CDS exam age limit for AFA: 19-23 years
CDS exam age limit for OTA: 19-25 years
Real-life example: If you are preparing for Indian Military Academy then your age must be less than 24 before joining the Academy. It means that you must clear the exam which you have given at the age of 23. (Many aspirants are not aware of this fact and keep asking this question multiple times)
The same is the logic of calculating other academy age limits.
And there is no age relaxation for candidates belonging to SC, ST or OBC category. You may be shocked by reading this sentence, but believe me, many aspirants keep on asking me this query.
Also Check: CDS Exam preparation Books (best books as per time left)
CDS 2 2020 Application form
There is nothing separate like the application form. You just need to fill the online application form of the CDS 2 2020 exam as specified in the video above. (2 steps registration)
The rest procedure of the SSB interview will be explained after CDS 2 2020 Written exam. Till then focus on written exam preparation as per strategies given.
CDS 2 2020 Qualification
CDS 2 2020 qualification or eligibility criteria creates confusion for last year graduation candidates. So, these 3 points will clear your doubts.
You need a degree from any field completed from a recognized University. (Arts, commerce, science, BE/ Btech)
Candidates who are in the last year of graduation can even apply for the exam.
There is no specific percentage requirement for CDS exam even if you have completed the graduation with 45%, you can apply for the CDS exam.
CDS 2 2020 Exam pattern
A dedicated article will be made for CDS 2020 exam pattern and trends. Today we will have a Bird's eye view of CDS written exam which will be helpful in analyzing CDS exam pattern.
Stage 1: Written exam (Objective type papers)
Stage 2: SSB interview of 5 days
Stage 3: Clear Medical test (Qualifying in nature)
Stage 4: Be a part of the merit list (Total of Marks in Written exam and SSB interview considered)
CDS 2020 exam pattern:
| | | | |
| --- | --- | --- | --- |
| Subject | Duration | Marks | Questions |
| English | 2 Hours | 100 | 120 |
| Maths | 2 Hours | 100 | 100 |
| General Knowledge | 2 Hours | 100 | 120 |
CDS 2 2020 Exam syllabus
Never go with the CDS 2020 exam syllabus as given in notification. The syllabus given in notification is very generalized and will not help you in preparation. Instead, you must refer to previous year question papers and latest trends to guide your preparation.
Separate article has been written on CDS 2020 syllabus. In this article, I will just give CDS GK paper subject wise weightage which will help you to analyze CDS GK trend.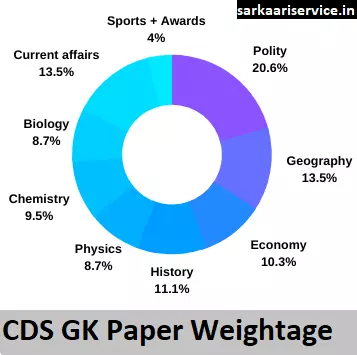 CDS 2 2020 Exam date
CDS 2 2020 exam will be conducted on 8th November 2020 all over India (on location you have specified at the time of form filling and mentioned in admit card)
CDS 2 2020 last date to fill form
I have purposefully added this section of CDS 1 2020 application last date because many aspirants left out filling the form as they are not aware of CDS form filling end date.
CDS 1 2020 last date to fill form is 25th August 2020 (Tuesday)
But if you want an exam center of your convenience, you need to fill form early. As exam locations are allocated on a first come first serve basis.
Also check: AFCAT exam preparation (score 180+ Marks Guaranteed)
CDS 1 2020 written exam result will be declared somewhere around 55-60 days after exam. (Expected time of CDS written exam result declaration is 45-60 days after commensation of the written exam)
Conclusion:
We will end this article with a resolution that you will follow the CDS exam detailed strategies for the upcoming CDS exam. I am ready to guide you in this journey, you just be ready to work hard for your dreams.
You will read tons of articles regarding CDS exam details, but that information will be helpful only if you are ready to self study at your end.
Also check out trending articles of our website like CDS GK paper strategy, CDS Maths preparation and CDS English Preparation for A to Z guidance regarding CDS exam.
Jai Hind…