AFCAT 1 2020 written exam was conducted on 22nd and 23rd February 2020 all over India. Today we will see AFCAT Result Latest News, AFCAT Result Date and Step by Step process to Download AFCAT Result and many more things related to AFCAT Exam. You can also get AFCAT Result on your personal Mail ID or mobile number so that there is no hurry of checking AFCAT result when it will be announced on official website.
We will also discuss about your ideal approach for AFSB (SSB Interview) after checking the AFCAT Result 2020.
AFCAT Result 2020
Before beginning with the details of AFCAT Result 2020 and step by step process to download the AFCAT Result, let us see the latest Update about AFCAT Exam as per official website "afcat.cdac.in"
AFCAT 1 2020 Result: Latest News
AFCAT 1 2020 Result is declared.
Check Now: Click Here
AFCAT Official Website to Check Result: Click Here
When is AFCAT 1 2020 Result?
AFCAT Exam Result is generally declared around 6 weeks after the commensation of written examination. But in last 2-3 attempts, AFCAT Result was declared even earlier than 6 weeks (As early as 25-30 days after the written examination)
So, AFCAT Exam Result can be declared anytime between the range given above.
AFCAT Result 2020 Exact Date
AFCAT 1 2020 Result is expected to be released between 15th-18th March 2020 (25-30 days after written exam)
What is the average duration between AFCAT Result and SSB Interview?
AFCAT SSB interview (AFSB) are much earlier as compared to CDS, NDA, etc
You have the option of choosing the SSB dates as per your convenience. So AFCAT exam which is conducted in February, you can choose SSB Interview dates ranging from mid-April to mid-August and for the AFCAT Exam conducted in December, SSB Dates from mid-November to mid-March.
How to Download AFCAT Result 2020 (Step By Step Process)
Let us check the Step by Step Process to Download AFCAT Result 2020 from the official website.
STEP 1: Visit official website of AFCAT, that is, "www.afcat.cdac.in"
STEP 2: Click on "Candidates Login" Tab and respective "AFCAT Exam" (Latest)

STEP 3: Now you will get this screen where you need to add "Registered Mail ID" and "Password". You can click on forget password if you cannot recall tge password. You will get mail to reset your password within 1-2 minutes (Sometimes may take time)
STEP 4: Your personal "Exam Details" page will open where you can see "AFCAT Result and AFSB Selection".
STEP 5: Your AFCAT 1 2020 Result will be infront of you and also AFSB Selection Dates.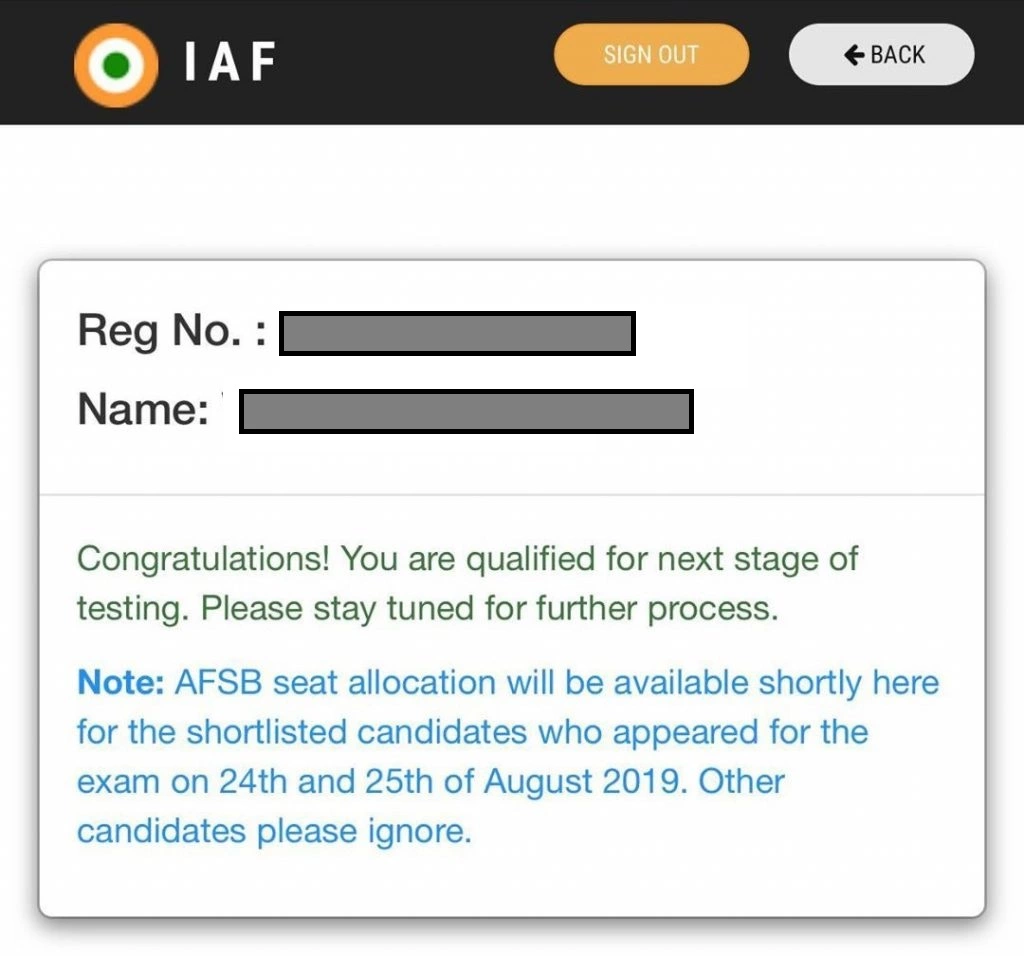 How should one prepare for SSB after the declaration of AFCAT Result?
Your actual competition begins once you have cleared the AFCAT Written exam and Qualified for AFSB (SSB Interview). While preparing for AFSB, you need to do preparation considering following points:
AFSB and SSB Interview are the

same

. So, no difference in preparation
It is must to understand SSB Interview 5 Days Procedure in detail before actual preparation.
SSB Interview preparation cannot be done just by reading the books. You need to bring lifestyle changes and implement OLQ's in day to day life. Only then those things will be expressed at the time of SSB Interview.
Self Preparation is more important than coaching. You just need guidance by toppers which I have already arranged for you.
SSB Interview Detailed Guidance by IMA AIR 4 Arvind Kaushik: Video Interview
SSB Interview Detailed Guidance by OTA AIR 1 Ipupu Mena: Video Interview
Conclusion
Many aspirants waste their time while waiting for the AFCAT Written exam Result and after the declaration of result, they are left out with less days for SSB Interview Preparation. (As Air Force SSB Dates are much earlier as compared to others!)
So, learn from other aspirants mistake and start preparation for SSB Interview as guided by All India Toppers. And if you want your AFCAT Result 2020 on your personal Mail ID, do let our team know in the comment section below. We can do this work for you.
Jai Hind !