Hello friends, finally CDS admit card is out and I have made a detailed article on common mistakes CDS aspirants commonly do and also tell you the importance of CDS Admit card. In this article, you will get A to Z details and information of UPSC CDS admit Card which may appear very basic, but these simple things can bring you in big trouble if you neglect them (Based on personal experiences)
What is CDS Admit Card?
When you fill CDS exam form (roughly 4 months before written exam) you get a preview of CDS exam form which is saved in pdf format. But, this is not the hall ticket for CDS exam. It is necessary to have CDS Admit card if you want to give a written exam.
UPSC CDS Admit card is nothing different. Its hall ticket to give CDS exam!!
When is UPSC CDS Admit card released?
UPSC CDS admit card is released on the official website "www.upsc.gov.in" roughly around 3 weeks before the written examination. You can see notification of the admit card for CDS on the "What's New" section of the official website.
When you are a beginner, you are too confused about when CDS Admit card will be released, but I will recommend you to be relaxed, and focus completely on your CDS exam preparation. I will keep you updated regarding CDS admit card release as soon as it is released by Union Public Service Commission.
There are also some measures with which you can directly get the admit card of CDS on mail ID which will be discussed further in this article.
How to download CDS Admit Card?
There are basically 3 methods to download CDS Admit Card:
With the help of your Roll Number
With the help of Registration number
Getting directly on mail ID which can be downloaded.
Generally, when the Admit card of CDS is released, lakhs of aspirants are searching for UPSC CDS Admit card which results in excess load on the official website and delay in cds admit card download. In this case, the 3rd method can be helpful so that you are stress-free and can focus on UPSC CDS exam preparation.
Also Check: CDS GK preparation (score 55+ marks guaranteed)
How to get CDS admit Card? (Step by Step process)
Step 1: Go to upsc.gov.in
Step 2: Scroll down and click on "Admit Card"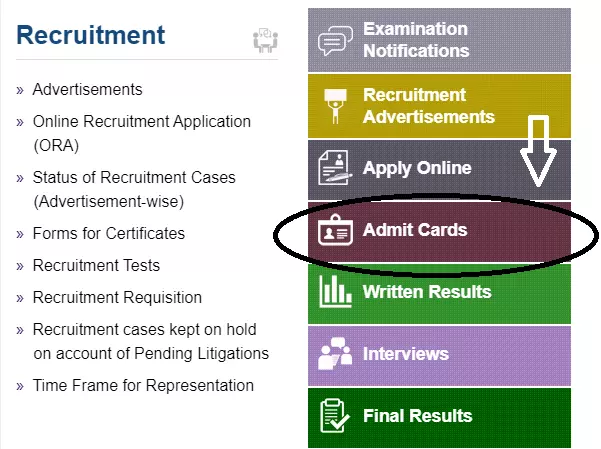 Step 3: You will get the list of All current Active examinations of UPSC. Select CDS 1 2020 Admit Card

Step 4: After clicking on "Click Here", you will get "Exam Instructions which you need to take a PDF" and read those instructions without fail. (It will take 2 minutes only)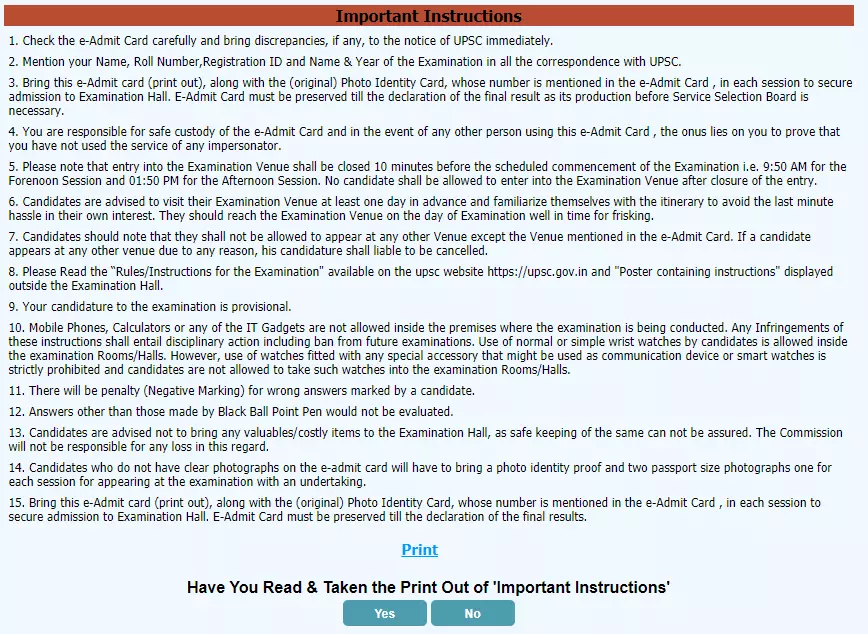 Step 5: Now is the most important stage where you need to add your "Roll Number or Registration ID" which you received at the time of filling the CDS exam form.
(You can also click on Forget Registration ID where it can be generated with the help of other personal details which you have added at the time of filling the CDS exam form)
How to get CDS admit card without Roll Number?
If you don't have your Roll number, then you must recall the mobile number which you have added at the time of form filling. And you might have received a text message after filling Stage 1 and Stage 2 of the exam form which contains registration ID.
So, with the help of that Registration ID and your mother name, you can get the CDS exam admit card.
Also Check: CDS Syllabus (Minute analysis & weightage of imp topics)
How to get CDS admit card without even Registration ID?
Yes, it's possible to get the UPSC CDS admit card even if you do not have Roll Number and Registration ID. In this case, you will get your email ID directly on your Registered mail ID.
How to get CDS Admit card Directly on you Mail Id?
This is the last stage to recover the CDS exam admit card when all other options are lost
Step 1: Collect all your personal details like registered Mail ID, your Phone number, Full name, mothers name, Father name.
Step 2: Write a Mail where you will say that you have forgotten your Roll Number and request officials to please help you out in getting the CDS Admit Card.
Step 3: Send this mail to " uscds-upsc@nic.in " from your registered mail ID only.
You will get the CDS admit card pdf directly on your mail ID in the next 2-3 days working days.
This process can be done even if 'CDS Admit card not downloading' due to excess load or any other technical issue of the website.
Why should you preserve your CDS Admit Card? (Very Imp)
Admit Card must be preserved at any cost. There are 4 main reasons:
Many times, aspirants do not have CDS admit card when the written exam result is released, and recovering Admit Card at that stage is next to impossible.
If you clear the written exam, it is must for SSB interview procedures.
Real Example: During SSB interview, one aspirant was asked about number of attempts he has given. Then the interviewer asked him to get the last 3 attempts admit cards to check whether he has a record of important exams he has given. (discipline of life)
Also Check: CDS Eligibility (Things no one likes to tell you)
CDS 1 2020 Admit Card:
CDS 1 2020 exam date: 2nd February 2020
CDS 1 2020 Admit Card release date: 3 weeks before exam
CDS 1 2020 Admit card download issue : Ask in comment
(CDS admit card is released generally 2-3 weeks before written exam. Don't worry, I will update you once released)
CDS 2 2020 Admit Card:
CDS 2 2020 exam date: 8th November 2020
CDS 2 2020 Admit Card release date: 3 weeks before exam
CDS 2 2020 Admit card download issue: Ask in comment
(CDS 2 2020 admit card will be released in the first week of October 2020)
Also Check: CDS exam OTA preparation
6 important points which you implement to be on safer side (About UPSC CDS Admit Card)
a) Take 3 printouts of CDS admit Card and add it to file. (Also attach CDS admit card pdf to your mail Id. )
b) you will see ID proof you have submitted at the time of form filling in the Admit Card. You must Carry this ID proof at the time of the Written exam as well as the SSB interview. (Must)
c) Take a print out of Notice along with Admit Card. It can be helpful for Maths question solving with pencil (experienced aspirants will understand)
d) Visit exam Centre 1 day before the actual exam. Atleast to know the exact location (very imp)
e) Reach the exam center 25 minutes before exam time.
f) Paste Admit Card on your study table as a source of Motivation.
These are very small and silly things, but highly impactful.
Also check: CDS Cut off (for last 3 years- Written +SSB)
Check Out Video tutorial of CDS exam Admit Card downloading process:
Best of luck guys for CDS 1 2020 Exam. And be calm and patient,
Sarkaari Service will always be there to guide you in your preparation !!
If you still have any doubts, feel free to ask below in comment section.
Jai Hind…