Yes, you heard it right. In this article, we will see how to prepare for CDS exam in 2 months, which will include 60 days study plan with exact books and important chapters. This 60 days CDS preparation will also include CDS test series which is very crucial if you want to study smart in these 60 days. Keep patience till the end of this article, I have made best possible study plan to utilize these 60 days to easily clear CDS exam cutoff for IMA, INA and OTA.
Prepare for CDS exam in 2 months
I received many requests from aspirants regarding the CDS exam preparation strategy in a short period of time due to their less time availability. I decided to make this strategy as I received many requests on how to prepare for CDS exam in 2 months.
I have made CDS exam 1-year detailed strategy which can give you 100% success and is full proof. But this article is for those aspirants who want to give their best in a short period of time and try hard to clear CDS exam cutoff marks. This strategy is specially made for:
Aspirants who have graduated just now (June-July) and have 2 months left for the upcoming CDS attempt.
Working professionals, who have just realized about this exam, and want to give a try for an upcoming attempt in 2-3 months.
A complete beginner with no idea about CDS exam, and wants to give their best in the upcoming CDS exam which is within 60 days of time.
Aspirants who are giving CDS exam as a trial during their graduation to get an overview about exam.
Aspirants who have wasted their time, but now want to cover their preparation in last 2 months.
Only for aspirants who are ready to give their 200% in these 60 days before exam.
Note: To be very frank, clearing exam conducted by UPSC in 2 months of preparation is not that easy. But still, I have made this strategy which has a 50-60% probability of clearing the overall cutoff marks. So, if you have 10-12 months of preparation time, focus on CDS exam detailed strategy. I assure 100% success if you do preparation as told in the CDS exam preparation article. Read these 4 articles if you are focusing completely on CDS exam preparation for the upcoming 8-10 months.
This detailed strategy has been designed with the help of successful aspirants of the CDS exam, taking feedback from many CDS aspirants and analyzing the latest exam patterns, etc. So, you can completely rely on it.
Now, let's see how to prepare for the CDS exam in two months time.
How to prepare for CDS exam in 60 days (4 slots of 15 days each)

We will divide these 2 months into 4 slots of 15 days each. I will tell you exactly what should you do in this slot of 15 days. You need to be highly focused in these 60 days to implement this strategy. And revision will be the key to success here. We will try to keep the sources very limited, and will revise these sources multiple times for the best results.
CDS exam preparation Day 1 to Day 15 (Slot 1)
In the first 15 days of CDS exam preparation, we will start with GK preparation, as it's the most crucial part of clearing CDS exam and it will take much time. We will complete exact GK syllabus from Lucent GK book as it has covered all subjects of GK in 1 single book with good coverage. I will tell the exact number of back-to-back pages of each subject as given in lucent GK book.
Number of pages of each subject given in this Lucent GK Book:
| | |
| --- | --- |
| Indian History | 63 pages |
| World History | 15 pages |
| Geography | 41 pages |
| Indian Polity | 40 pages |
| Indian Economy | 41 pages |
| Physics | 25 pages |
| Chemistry | 22 pages |
| Biology | 26 pages |
Your main target of the first 15 days is only to complete this book (exact number of pages given above for syllabus overview). You can complete this book in 15 days even if you read 18.2 pages a day (on average).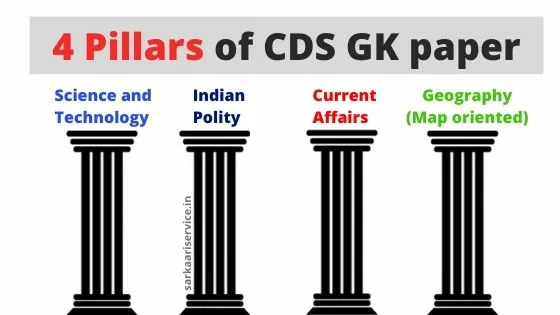 CDS exam preparation Day 16 to Day 30 (Slot 2)
Slot 2 of our preparation strategy will be dedicated for Maths preparation. For Maths preparation in this short period of time, best source is latest CDS Pathfinder book. Because here you will get the theory of each topic, plus latest questions asked in CDS exam. (I am focusing on latest pathfinder book only because you will get updated questions of each topic in latest version)
You must first read the theory part of each topic with tricks to solve questions that are given at the beginning of each chapter. Then solve maximum questions given on that topic which are asked in previous exams. Remember that not more than 1.5 days are allotted for 1 topic.
(Some important topics like Trigonometry and Mensuration will take 2-2.5 days, but try to compensate this time period by completing small chapters in very less time)
Also Check: How to crack CDS exam in first attempt?
Important chapters which you should do at any cost from Pathfinder Book
Arithmetic (Elementary Maths)
Algebra (equation related questions)
Trigonometry (very important)
Statistics (easy and straight forward questions asked)
Mensuration (very important)
Geometry related chapters
These are major pillars of CDS Maths paper.
Don't worry, CDS Pathfinder Maths section is specially designed considering CDS exam needs. Just try to cover maximum topics in this 15 days span.
CDS exam preparation Day 31 to Day 45 (Slot 3)
Slot 3 of CDS exam preparation, means day 30-45 will be dedicated for revision of GK and Maths which we have done in the first 2 slots. This is very crucial stage of preparation because you will recall only those things in exam hall which you have revised well.
Along with revision, you need to get "Disha Publication Quarterly current affairs compilation" for the last 10-12 months. These books are very small in size and can be covered in maximum of 7-8 days if studied the whole day.
You need to focus more on revision to prepare for CDS exam in two months.
Things you need to do in "Slot 3" (Day 31-45 of CDS exam preparation)
Revise GK and Maths which you have done in the first 30 days.
Cover compilation of Disha Publication for last 10-12 months (easy task)
Cover the topics of GK and Maths which you have left out in the first 30 days.
Revision is the most crucial task of this period.
Also Check: CDS OTA preparation (Score 90+ Marks)
CDS exam preparation Day 45 to Day 60 (Slot 4)
The last slot of our strategy, means day 45 to day 60 will be dedicated to "test series and solving multiple questions".
We have started free CDS Mock test for CDS 1 2023 exam where you will get syllabus wise CDS test series for practice. This test will be conducted every Sunday based on a fixed syllabus (which will be provided at the start of the week)
Check A to Z details of Free CDS Mock Test here: Click here
We will solve offline tests of only Maths and English (Not of GK) because we have covered GK tests in online CDS Mock test. We need to do the practice of English and Maths papers only.
We need to solve 10 previous year papers of Maths and 10 previous year papers of English in first 10 days of this slot (day 45-55).
Take a xerox of previous year question papers from upsc.gov.in and solve 10 papers of each subject in 10 days in time constraint (exam like conditions)
Even after solving these papers, you will get much time where you need to revise all the sources we have read so far and keep on solving CDS exam related questions.
Many aspirants think that they will solve questions after completing the study, but this time never comes. So, it's better to follow what I have told in this strategy.
What about CDS English preparation in these 60 days?
Given below is the list of important topics of CDS English paper:
Important CDS English Topics
Spotting the errors
Sentence improvement
Ordering of sentences
Ordering of words in sentences
Selecting correct words in sentence
Comprehension (passage)
Fill in the blanks (close comprehension)
Antonyms and Synonyms
You need to study English Grammar rules and practice above important CDS English topics from CDS Pathfinder Book for 1 hour on daily basis (for 60 days)
English preparation can be easily completed with ample practice even if you study for 1 hour daily in this 2 months preparation time.
Conclusion
I have given exact sources to be studied in specific time slots. So, follow this strategy considering every minute detail.
Revision is very crucial to recall data at the time of the exam.
You must believe that you can clear CDS written exam with 2 months of preparation time (You must win mental battle first)
Read, Revise, Read and Repeat
This strategy to prepare for CDS exam was prepared by Sarkaari Service members who have tried and tested this CDS exam strategy.
So, all your doubts regarding "how to prepare for CDS exam" are solved and a detailed CDS preparation plan is also given in the most practical way.
So, best of luck guys for CDS 1 2023 Exam