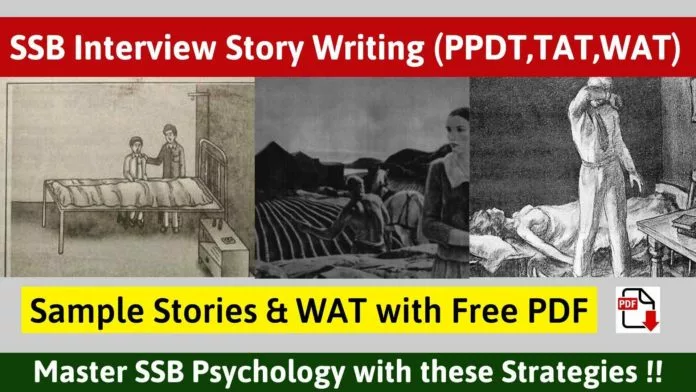 After getting excellent response to our SSB Interview Master article, we are back with SSB Interview Psychology preparation where we master Story Writing (which is considered as the most difficult and misunderstood part of SSB Interview.) Preparation strategy for SSB PPDT, TAT, and WAT will be provided in this article which will definitely add value in your SSB Preparation.
SSB Interview Story Writing (PPDT)
Before beginning with this article, I would like to tell you that this article is in continuation with yesterday's article on SSB Interview (A to Z preparation of SSB Interview). So, before beginning with this article, have a look at 2 initial articles so that your preparation for SSB Interview can be completely done with Self-Preparation. 
SSB Interview Procedure and

All Basic Terms Explained in Detail

:

Click Here

SSB Interview A to Z Preparation

(Imp)

: 

Click Here
Success lies in strengthening of basic principles of SSB Interview. So, we will continue with this article considering that you have read the above articles.
SSB Interview Preparation
Let us see some basic concepts related to SSB Interview which will be necessary to understand today's article.
PPDT ( Picture Perception and Discussion Test )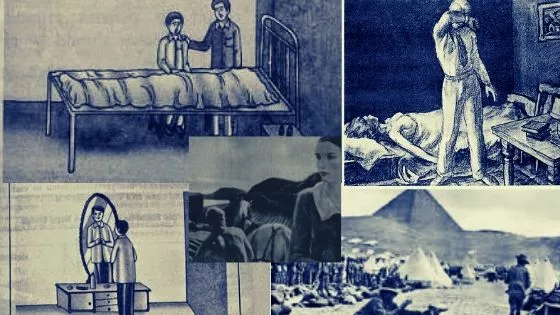 Full form of PPDT  "Picture Perception and Discussion Test". In this SSB test, you will be shown a picture on screen (which will be Vague & confusing) for just 30 seconds, and later you have to think a story based on this characters and situation shown in the image and write story in 3 minutes. Later you will be divided in group of 17-18 members where each member should narrate his individual story followed which will be followed by group discussion among these 17-18 group members.
TAT (Thematic Apperception Test)
Full form of TAT is "Thematic Apperception Test" in which you will be shown 11 pictures on screen (Last one will be blank) and you need to write a story on each shown picture in limited time. You will be shown 1st picture for just 30 seconds, then you will get 4 minutes time to write a story. Same process will be followed for 11 slides / Pictures.
WAT (Word Association Test)
Full form of WAT is "Word Association Test". This is also a challenging test where you will be shown 60 back to back words, in which each word will remain on the screen for only 15 seconds. You are supposed to write a sentence that comes in your mind first. Generally double meaning words are chosen to get the real person out of aspirant. Our original thinking and psychology is reflected through the answers we give in this test. (Because we write first thing that strikes to our mind in those 15 seconds)
SSB Interview Story Writing (PPDT and TAT)
Suppose there is a picture where a girl is crying and is depressed, then why do you assume that is you? You can bring the main character from outside and help that girl to come out of her problems! Getting a character outside in these situations is important because you shouldn't associate yourself with depression. Suppose in a story there is a person lying on road and has met an accident, so obviously, you are not the person who has met an accident and waiting for help.
Rather you are the hero and will save him! So, you can imagine yourself in these negative pictures to come out of the picture and help. Like suppose only graveyard is shown, then you don't assume yourself to be a dead person. Rather raise the problem say related to graveyard's space etc. DON'T FALL IN THE TRAP TO CONSIDER YOURSELF AS THE NEGATIVE CHARACTER.
For e.g., if two thieves with a gun in hand are opening up a lock, then you aren't the thiefs! But someone who will catch hold of them! Coming out from the negative picture shows your mind's capability! So, solve the depressed girl's issues, but don't be that depressed girl!
Choosing Character:
Many candidates write that "RAHUL WAS A POOR VILLAGER OR DIDN'T HAVE GOOD FINANCIAL POSITION AND SOLD HIS HOUSE AS MORTGAGE TO PAY FOR OPENING A CYCLE REPAIR SHOP". THIS SHOWS THE LACK OF CONFIDENCE THAT YOU HAVE IN YOU (THROUGH THE WORDS IN BOLD). Why cannot he be a SARPANCH? AN IIM GRADUATE?  THINK OVER IT!
Also, suppose a person in uniform is shown, but a person who makes this character a "Havildar" or "Sepoy" and NOT AN OFFICER, has a very low confidence because his mind still feels comfortable to be at a low position and for him being an OFFICER seems unachievable (even in a story). So, Choose your character something good financially, morally, socially. YOU CHOOSE WHAT YOUR ATTITUDE CHOOSES!
Don't Break the Circuit:
Suppose someone copies the WAT like "stranger is a friend" without actually feeling it from inside that in reality a stranger is your friend, then, you are bound to write a story which will involve "trust deficit" with other characters or in SRT you will write (if the SRT is (say) HE was in Nagaland and he saw Nagas approaching. He?) "He ran away from them". Now, you didn't write "he greeted them with smile and noticed their attires and made friends" because from inside you somewhere feel that strangers are danger! THIS IS CALLED BREAKING THE CIRCUIT – WHEN YOU LIGHT UP SAY WAT, BUT PUT OFF THE STORY AND SRT OR COPY THE STORY, BUT IN WAT AND SRT YOU DON'T SHOW COHERENCE. Thus, to lighten up your psychology tests, these THREE (STORY, WAT AND SRT) must be in coherence.
If the character is a good planner, then automatically in WAT and SRT planning will be shown and of the same quality. Otherwise, the psychologist will doubt your real intention and is bound to catch you. Even a single loop hole creates doubt in mind of psychologist. Thus, the best way is to develop a personality which has OLQs in it. Think that you are a good planner, read stories of people who planned out, plan your own activities at home. Make new friends. You will see, that your mind, body and soul improving day by day.
"WHAT YOU THINK, YOU BECOME"- BUDDHA
SSB Interview Sample Stories (PPDT, TAT)
FEW PEOPLE SITTING AROUND A TABLE AND DISCUSSING 
Rahul was the CEO of his company named BISCUIT, which dealt mainly in cookies and other bakery items. He noticed well in advance that Diwali festival was coming near and he had to raise the supply of his products and also do product diversification. Thus, he decided to hold a meeting with his board members. He made a presentation ascertaining the amount of cookies to be produced and also gave an idea to collaborate with Lays and make a package in which many items were to be boxed and packed for the season. For this, he made  teams of three members each. Team A looked after production and packaging, Team B looked after sales and Team C looked to contact Lays company.  He looked after all the team and solved their issues. He also, with his last year's savings bought new machine for production. He then invented some new flavours of biscuits and gave free samples to workers to give to their children and get feedback. He and his team mates convinced lays to collaborate. He contacted wholesalers of whole India and abroad and told them to get in touch with his team mates and gave them assurance of high profits. His Profits surged, sales expanded and he delivered more than demand, so some he gave to the workers along with diwali bonus and some for further sales in godown.             
2. Village Scene
Rahul was an engineer in BHEL. To meet his relatives after many years, he went to his village. While he was discussing family matters with them, suddenly electricity went and on asking, he was told that electricity came only for few hours. So, Rahul decided to provide his village 24×7 hours electricity. He held a small meeting with sarpanch and other villagers and told about his idea to which they all agreed .He first ascertained the main dark spots of his village and the number of households on which the solar panels had to be installed. He took out his phone, searched for good solar panels and contacted the distributer and also convinced him to provide it in minimum profit and as soon as possible. He then received all the panels and with help of villagers installed them especially in washroom and kitchen first. He also told sarpanch to get them repaired and maintained whenever required. He after spending some more days with relatives and new friends, went back and joined work.
3. BOY DROWNING
Rahul was doing genetic engineering course from DU and as a research project went with his classmates into the Yamuna river to collect genes of various organisms so to study them and decode the genes and publish  papers. As he approached the floodplains, he heard a loud noise of help. He quickly got to know that person was drowning and planned to save him. For this, he jumped into the river signaling his friends about the plan. He went upstream by swimming, caught hold the boy, took him onto his back, got him to the plains. He removed water from his body and asked where the boy lived and took him to his house and explained situations to his parents and also suggested boy to learn swimming. He came back with friends and collected samples and published paper.
SSB Interview WAT (Word Association Test)
Given below are some sample "WORD ASSOCIATION TEST (WAT)" which will give you a rough idea on how you should write sentences (please do not copy, just take idea from it)
Mark – Common sense is mark of wisdom
Confuse- Clear vision removes confusion
Risk- Greater risks give greater rewards
Conflict- Conflict is solved through conversations
Indicate- A good suggestion indicates improvement
Reach- Proper planning helps reaching goals
Raise- Consciousness is raised by reading and discussing
Support- support is interlinked
Weak- working on oneself eradicates weakness
Patient- Patience shows discipline
Disease- Proper diagnoses vanishes disease
Around- solutions are always around us
Decrease- thinking ahead decreases pains of today
Mistakes- Learning from mistakes helps us improve
Down- humility is being down to earth
Dull- healthy conversations never allow dullness
Depend- Country's future depend on ignited minds
Fall- Rising after falling is strength
Exaggerate- exaggerate shows less confidence
Express- expressing feelings deepens friendship
Fear- fear is removed by will
Trust- trust is social capital
Rest- determination to complete seeks no rest
Fat- running burns extra fat
Defend- defending country gives pride
Creative- Creative mind searches new things
Obey- Obeying boss builds relationship
Responsible –Responsibility is for every step
Crisis- Keeping clam helps in crisis situation
Disagree- Disagreement often improves
Darling- country is darling to its citizens
Refrain- Caution refrains from mistakes
Noise- Noise is indication of situation
Rescue- rescue work is humanitarian
Pardon- Pardoning people shows great heart
Lead- leading others benefits all
Relation- Relations grow stronger by trust
Confess- Confessing mistakes is honesty
Customs- customs are colourful
Fast- Fasting keeps body and mind healthy
Loyal – loyalty strengthens longevity
Worship- worshiping nature is worshiping oneself
Dear- dear things are shared with friends
Need- donating helps need
Judge- listening other's first is foundation of judgement
Warm – feeling one with others gives warmth
Alert- being alert avoids carelessness
Decline- Proper strategy improves declining profits
Leader- Leader shows by examples
Dark- light removes darkness
Nation – Whole nation is one's home
India- India is known for hues.
Politics- Electoral reforms invite clean politics
Parliament – Healthy Parliamentary discussions are fruitful
Human- Humans cannot live without society
Right- Rights added by duties makes a good citizen
Special – Everyone is special
Pick – Intelligence picks concepts quickly
Numbers- Numbers are magical
Hurt- Confessing does away with hurt feelings
Matters- Every being matters when it comes to nation building
Heavy- Heaviness is relative
Foreign- visiting foreign countries makes us learn so much
Member- Members are one team
Review: Reviewing tasks done improvises
Society- In society everyone is intertwined
Use- using biodegradable items ensures healthy future
Water- Conserving water is need of the hour
Grow- Learning each day brings growth
Manage- Planning properly manages everything
Risk- Taking risks bring rewards
Fail- failure is a good teacher
Culprit- Justice is reformation to culprits
Crooks- being crook Is childish
Night- Night is regaining strength for tomorrow's work
Aloof- Friendship never keeps anyone aloof
Injury- Small injury in big matches doesn't matter
Discipline- Discipline of mind is greater than of body.
Lure- Good vibes lures people
Power – Using power judiciously can do miracles
Temper- Cool temper is always liked
Emotion- Emotional intelligence overpowers emotions' handling
Find- What we seek, we find.
Constitution- Constitution runs the country
Oath- Taking oath is building promises
Army- Army is unity
Test- Accepting people as they are requires no test
Weekends- Weekends are utilized for constructive works
Diagnose- Before execution, diagnoses is important
Important- Important tasks are given priority
Depress- Yoga removes depression
Low- lively nature ensures no low
Head- Project head keeps things in vigil
Permission- Permission is given when asked for
Vote- Every vote counts
Soldier- Soldier is every ready
Blood- Donating blood gives satisfaction
Aim- Aiming high increases will power
Death- Good life led ensures good death
SEE- Seeing through problem sharpens mind
Stranger – stranger is a friend
Difficult – With team work any difficult can be solved
Tired- Tireless effort takes ahead in life
Smile- Smile brings enjoyment in work
Attack- Sports attack lethargy
Give- To give is to human
Learn-Learn helps us growing
Jump- High jump improves stamina
Reject- Accepting rejections is courage
Ego- Ego reduces when one looks at nature
Emergency- In emergency leaders are born
President- President is first under order of precedence
Team- Cooperation helps in team work
Reform – reformation is becoming new everyday
Collect- Information collection brings awareness
Under- Under water diving shows a new world
Future- Planning for ahead makes future bright
Bright- Bright mind is an asset
Asset- Every hand is asset in building
Cut- Saving for ahead requires cut in present needs
Comfort- Out of comfort zone lies growth
Sacrifice- Family members sacrifice for each other
Encourage- Good work is always encouraged for further improvements
Pressure- Pressure is released when thinking of ahead
Struggle- Struggle of today is cake walk of tomorrow
Guide- One's intuition guides sometimes
Sad- talking to friends removes sadness
Bluff- Bluffing is foolish
Woman- Woman and men are at par
Enjoy- Enjoying each moment keeps one happy for life
SSB Interview Lecturette Topics which you must Master!
List of 30+ Lecturette topics which you must keep prepared all the time! (IMPORTANT)
FDI IN DEFENCE

INDIA-CHINA RELATIONS

ARTICLE 370

INFORMATION TECHNOLOGY

ROLE OF MEDIA IN DEMOCRACY

ELECTORAL REFORMS

INTERNET-BOON OR CURSE

INDIA AND US RELATIONS

BPO

DOPING IN SPORTS

NUCLEAR ENERGY

GLOBALISATION

AGRICULTURE IN INDIA

INDIAN ECONOMY

SPACE PROGRAM OF ISRO

RTI

MNREGA

NAXALISM

TERRORISM

UNEMPLOYMENT

INDIA-PAK RELATIONS

POVERTY 

ARMED FORCES SPECIAL POWER ACT

TOURISM IN INDIA

BIOTECHNOLOGY

NANOTECHNOLOGY

AADHAR CARD

POPULATION – MERITS OR DEMERITS

ENVIRONMENTAL PROBLEMS

RENEWABLE ENERGY 

MAKE IN INDIA
SSB Interview Free PDF Material