Clearing competitive exams conducted by UPSC, like NDA exam needs you to be a dynamic person. You need to study multiple sources, revise them and recall A to Z you have read in matter of few hours. Moreover, you need to clear Individual cut off as well as overall cut off of NDA exam.
There are many NDA aspirants who are continuously studying for NDA exam from last 2-3 attempts but still they can't manage to clear the written exam of NDA. On the other hand, some aspirants study strategically for 5-6 months and still manage to clear NDA written exam with Merit. What may be the reason?
The main reason is that successful NDA aspirants take regular NDA Mock Test for GAT and Maths before the actual NDA exam. This helps them to :
Understand weak and strong areas
Manage time as per their strength and weakness.
Avoid silly mistakes in final exam which they do in Mock test
Realize the importance of shortcut methods to solve problems
Know their perfect attempt for NDA exam (Ideal attempt)
Removing exam fear and fear of failure
Be extremely confident at the time of written exam
Score high in final exam as type of questions repeat in actual NDA exam.
How will be NDA Mock Test 2020 conducted?
NDA test series or NDA Mock Test 2020 will be conducted in online format on Sarkaari Service website free of cost for NDA aspirants. This NDA 1 2020 Mock test will give you confidence to score high in actual NDA exam.
You will get syllaus of NDA mock test for each week (Monday).
On the given syllabus, you need to solve 100 marks mock test of NDA GAT paper and NDA Maths paper (individually)
You will get your Score out of 100 and detailed analysis of questions you have solved along with

detailed answer key with solution

at the end of NDA Mock test.
"All India Ranking" will also be provided based on your performance in NDA 1 2020 Mock test.
You can even save the questions of NDA Mock Test 2020 in your Dashboard, which will have a usename and password (create free account on website)
Each Test can be given multiple times till you master those topics given in NDA test series 2020.
Where will I get Syllabus and NDA Mock test details?
Syllabus of every Mock test will be made available by our team members on every Monday on our social media platforms like Facebook, Instagram and Telegram. You need to follow all these platforms to have latest update related to NDA Mock Test 2020 which will be held on upcoming Monday.
Screenshots of "All India Toppers" of NDA Test series 2020 will also be made available on these social media plaforms after NDA tests conducted every Sunday.
Check this Sample of CDS Mock Test "All India Toppers"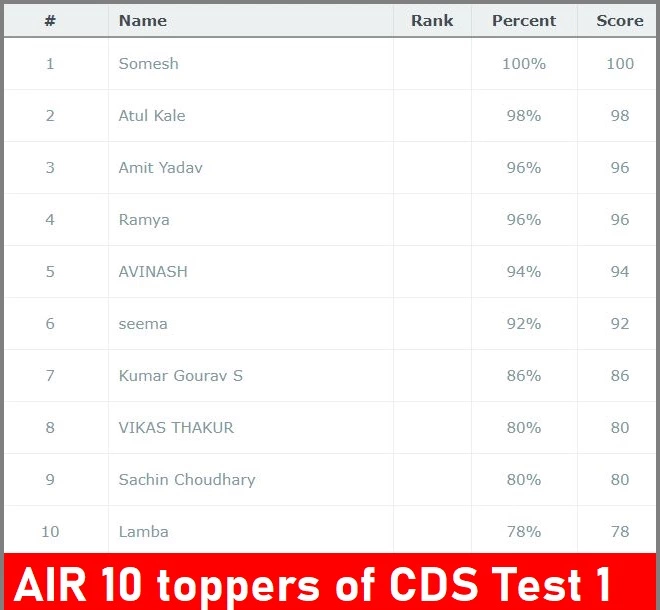 NDA Test Series 2020
We will conduct 11 syllabus based NDA Mock tests in such a way that complete NDA syllabus will be covered in these tests. This is the timetable of Mock Tests:
| | | |
| --- | --- | --- |
| NDA 1 2020 test series | NDA 2020 Mock test  | NDA 2020 Mock test timing |
| NDA Mock Test 1 | 100 Marks | 11: 00 am (Morning) |
| NDA Mock Test 2  | 100 Marks | 11: 00 am (Morning) |
| NDA Mock Test 3  | 100 Marks | 11: 00 am (Morning) |
| NDA Mock Test 4 | 100 Marks | 11: 00 am (Morning) |
| NDA Mock Test 5 | 100 Marks | 11: 00 am (Morning) |
| NDA Mock Test 6 | 100 Marks | 11: 00 am (Morning) |
| NDA Mock Test 7 | 100 Marks | 11: 00 am (Morning) |
| NDA Mock Test 8 | 100 Marks | 11: 00 am (Morning) |
| NDA Mock Test 9 | 100 Marks | 11: 00 am (Morning) |
| NDA Mock Test 10 | 100 Marks | 11: 00 am (Morning) |
| Final Test 11 | 100 Marks | 11:00 am (Full length) |
NDA Mock test series (Step by Step guide)
You will get NDA Mock Test 2020 link on every Sunday on our website as well as social media platforms. You need to Read the Test instructions which will be necessary to understand the pattern of exam and marking scheme.
Click on the "START" button to begin the test. Now, you will see 1 question at a time on the screen. You need to select correct answer and click on "NEXT" button for next question.
Test will automatically end after 120 minutes or you can end it if you have complete test before the given time.
After the Test ends, you will get your OBTAINED SCORE and also answer key with solutions of A to Z questions from that particular NDA Mock Test 2020.
When will be NDA 1 2020 mock test conducted?
NDA 1 2020 Mock test will begin in January 2020 (3 months before actual NDA exam) and will continue till second week of April 2020.
NDA Mock Test pdf
Many aspirants demanded NDA Mock test pdf, but I will recommend you to take test in online format only because if you will keep on collecting exam sources to study, those sources will pile up and at the end of day, you will not be able to revise it.
Instead, you can give same test mutliple times till you masker them. You can also make notes of important questions.
NDA Mock Test free
NDA 1 2020 Mock Test will be completely free of cost for all NDA aspirants. Our moto is to reach needy aspirants who cannot afford costly coaching.
I have already guided for NDA 2020 preparation via detailed articles on NDA GAT and NDA Maths. Do, follow them rigorously if you want to crack NDA exam in first attempt.
There are thousands of aspirants who want to be part of Indian Armed forces, but cannot achieve their dream due to lack of money. This platform is for those serious aspirants who are self enlightened to study for NDA exam.
NDA Mock Test 2020 (NDA 1 2020 and NDA 2 2020)
NDA Mock Test 2020 will be conducted for both the attempts for NDA exam, that is, NDA 1 2020 and NDA 2 2020.
NDA Mock Test will be available on website till Final NDA exam. So, you can give any test multiple times for practice, that too, free of cost.
Online Test series for NDA Exam 2020
We can even start NDA test series 2020 earlier than above given dates if many aspirants demand for it. So, make sure you comment your views in the comment section below.
Our team is ready to work hard to provide you online test series for NDA 2020. Now, its your duty to share this article with serious NDA aspirants so that NDA test series starts as early as possible.
Why is NDA Mock test 2020 conducted Sunday to Sunday?
NDA Mock Test 2020 is conducted Sunday to Sunday so that :
NDA aspirants get ample time to study for each test and complete the Syllabus specified for that particlar test.
You can study for whole week (12th Boards + NDA exam) and give test of what you have studied in last 5-6 days. This

improves your revision

and at the same time gives you confidence of completing the NDA syllabus in specific time.
You can utilize your Sunday Morning in NDA Mock Test which gives you an upper edge over other aspirants who are wasting thei weekend time.
NDA GAT Mock test
We will initially begin with NDA GAT Mock Test 2020 because we need to prepare hard in NDA GAT paper to score high marks in overall NDA exam. It is possible to score high in NDA GAT exam is you master core subjects like English, Physics, Chemistry and Biology.
Moreover, NDA Mock test for GAT will add value in your preparation.
NDA Maths Mock test
NDA Maths Mock Test 2020 will help you to practice exam oriented questions in test like situation which will give you confidence to score high in acutal NDA exam.
Best NDA Mock Test 2020 (Check our reviews for other exams too !)
Do let us know your reviews on NDA 1 2020 Test Series. Jai Hind !