Hello NDA aspirants, NDA 1 2020 Admit Card is Out and I have made this detailed guide on common mistakes NDA aspirants do while downloading NDA Admit Card. There are many issues with respect to NDA Admit card which sometimes becomes severe while checking the result or at the time of SSB Interview. So, its better to take suitable precautions before its too late.
We will see how to download NDA admit card without roll number or even registration number, how to get NDS admit card on mail, latest NDA 1 2020 Admit card and much more.  These tips may seem very simple and basic, but these little things can sometimes trouble you.
What is UPSC NDA Admit Card?
UPSC NDA admit card is nothing but hall ticket to appear for NDA exam. NDA written exam is conducted twice a year, in April and September. We fill the exam form 3 months before written exam. But what is the valid document or identity proof while giving the NDA exam?
After filling NDA form, we get "NDA Application form PDF" but it cannot be a proof for giving writen exam. Roughly around 3 weeks before NDA exam, you get NDA Admit Card (Hall Ticket) which contain exam specific details like:
Exam Centre
Exam Timing
You personal details and preferences which you have given while filling the exam form.
This NDA Admit Card is the valid proof and your entry pass to give NDA written exam.
When is UPSC NDA Admit card released?
NDA admit Card is released generally 3-4 weeks before actual written exam.
UPSC NDA Admit Card 2020 will be released on upsc.gov.in on the expected date. (Which can be accessed through 'Whats New Section' or dedicated 'Admit Card' Division of official website). We will update you as soon as admit card of NDA will be released on our various social media platforms.
How to download NDA Admit Card?
There are basically 3 major ways of downloading NDA Admit Card:
With the help of Registration Number mentioned in application form.
With the help of  Roll Number
Getting directly on mail ID which can be downloaded as per our convenience.
Admit Card for NDA will be available on Official Website till exam date, that is, 19th April 2020. But its recommended to get NDA admit Card as soon as its released on official website so that we are aware about exam center and 'NDA written exam' rules and regulations.
How to get NDA Admit Card? (Step by Step process)
STEP 1: Visit upsc.gov.in (Official website of Union Public Service Commission)
STEP 2: Scroll down a bit. You will see this Column on "Left Side" of website. Click on "Admit Card" option in this column.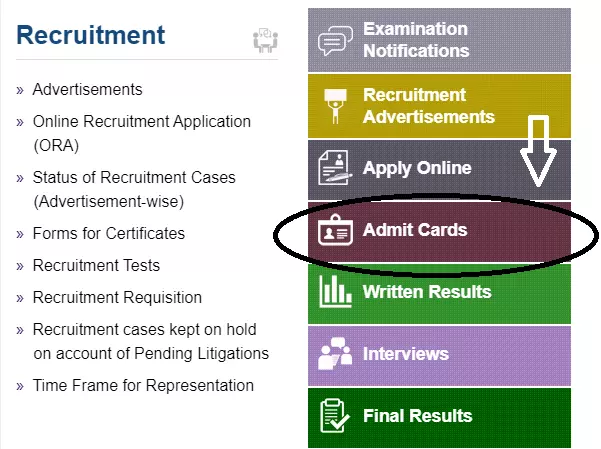 STEP 3: Now you will get list of "All Active Examinations of UPSC" whose admit card's are releaed. Now, click on "NDA 1 2020 Exam"

STEP 4: You will get "Exam Instructions which you need to take a PDF copy" after clicking on "Download". It is must to read those instructions without fail. (It will take 2-3 minutes only to read these important details)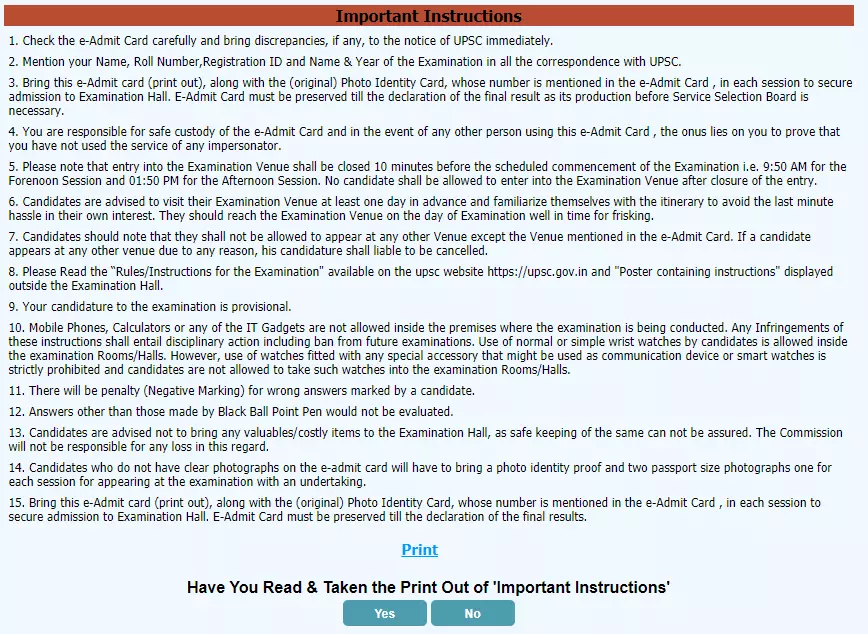 STEP 5: Now you can get "NDA 1 2020 Admit Card" with the help of your Roll Number or Registration ID.
How to get NDA admit card without Roll Number?
If you can't recall your Roll number, then you must recall your mobile number which you have submitted while filling the NDA exam form. Because at the time of filling NDA exam form, UPSC also sends message after filling Stage 1 and Stage 2 form of the NDA exam which contains registration ID.
Now with Registration ID and your mother name, you can obtain Admit Card for NDA.
How to get NDA admit card without Registration ID?
If you can't even regain your NDA Registration ID, there is one more option of obtaining NDA admit card 2020. In this case, you get Admit card of National Defence Academy exam directly on your Registered Mail Id submitted while filling the exam form.
How to get NDA Admit card Directly on you Mail Id?
This is the last stage of recovering NDA 1 2020 admit card for upcoming NDA exam. I will give 3 stage process to obtain admit card:
You will get mail from UPSC Officials in next 3-4 working days. 
Why should you preserve your NDA Admit Card? (Very Imp)
I recieve many messages from NDA aspirants that they do not have NDA Admit Card when the NDA written exam result is declared. You must know that recovering Admit Card at that moment is next to impossible.
NDA Admit Card 2020 will be required for SSB Interview after clearing NDA exam.
Real Example of CDS aspirant (defence exam after graduation):
During SSB interview, one aspirant was asked regarding his number of attempts for CDS exam. Then the interviewer asked aspirant to get the last 3 attempts Admit Card to check whether he keeps record of previous attempts or not.
NDA 1 2020 Admit Card:
NDA 2 2020 Admit Card:
Our website will keep you updated related to all 'NDA Admit Card Release Updates' from UPSC.
Precautions you must take for NDA Admit Card 2020 (Ideal Case)
Get 3 printouts of NDA Admit Card and keep it in 3 different locations (file, locker and study table)

(Also keep backup of admit card on Google Drive of registered mail ID)

Visit exam Centre atleast 1 day before the NDA exam. (Important) and reach exam center 25 minutes before exam time

on 19th April 2020.

Paste Admit Card in your study room (For sake of Motivation !)
ID proof mentioned in NDA Admit Card is must to be carried for Written exam as well as the SSB interview.
Take a Print out copy of Notice along with your NDA Admit Card. It will be a additional sheet to solve maths problems (experienced candidates will understand)

Last few days are left for NDA exam. Just make sure you complete NDA syllabus as given in notification.